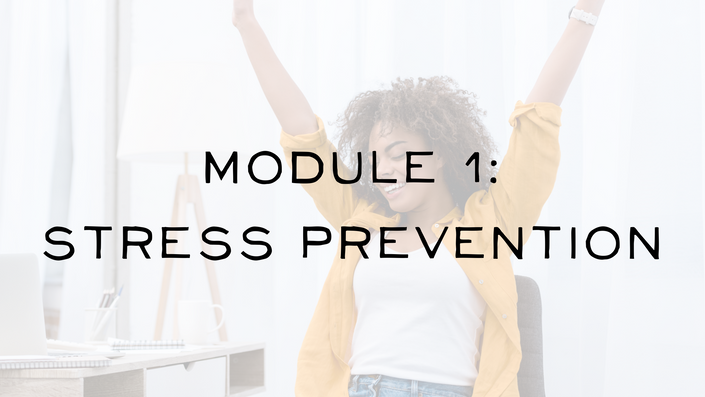 Stress Management: Practical Strategies for Lasting Relief
Module 1: Stress Prevention
Why Stress Management: Practical Strategies for Lasting Relief?
Feeling constantly stressed and anxious is unhealthy. Chronic stress can wreak havoc on your body, causing things like heart problems, digestive problems, weight changes, and insomnia. It doesn't stop with the body: chronic stress can also negatively impact your relationships, your job performance, your ability to handle your emotions effectively, and your ability to function on a daily basis.
The events of the past year threw a spotlight on the need for stress education as people all over the world turned to ineffective or even downright destructive ways of coping with stress. It quickly became evident that many people had never learned how to manage stress effectively, and were suffering horribly because of it. Does that sound like you?
In just four sessions, you can learn simple, concrete strategies for healthier and more effective stress management AND you can learn how to make them work for you.
Have you ever found yourself saying "I just have to get through this, then everything will be okay" only to find that after you got through it, there was another stressor right there to take its place?
The reality is that life is HARD, and stressors will always be there. Thankfully, life is slowly starting to return to normal, but that doesn't mean stress and anxiety are going away. Life is full of conflicts, problems, transitions, deadlines, projects, big events, major decisions...the stressors don't leave, they just change.
The reality is that there will always be something.
Stress Management: Practical Strategies for Lasting Relief will equip you with the tools you need to take charge of stress and anxiety so you can get out of flight-or-fight mode, overcome overwhelm, and live a happy, healthy life on your terms. You can't change what life throws at you, but you can handle whatever life throws at you without losing yourself to stress and anxiety, and this course will teach you how.
How are you currently handling stress and anxiety?
Here are some common ways people cope with stress and anxiety:
Stress eating (eating more than intended, eating when not hungry)

Abusing alcohol or drugs

Yelling or snapping at kids, partners, and other loved ones

Neglecting sleep in favor of watching TV or scrolling social media

Mindlessly shopping

Missing important events or obligations

Replacing healthy decisions with a "treat yourself" habit.

Dropping the ball at work

Not being emotionally present for family and friends
If one or more of these applies to you, it's time for a change.
This course will EMPOWER you to:
Regain control of your life
Release the burden of stress and anxiety
Breathe again
Manage stress and anxiety in HEALTHY, SUSTAINABLE ways
Improve your relationships
Improve job performance
Optimize physical and mental health
Take your power back from stress and anxiety
Make lasting positive changes in your life
How much is stress costing you?
Food/alcohol costs for stress eating: $1200 per year (at $100 per month - a $20 bottle of wine per week plus a little food)
Fitness and diet programs to undo the effects of stress eating: $3600 per year (conservatively $300 per month)
Medication for anxiety, insomnia, blood pressure, etc.: $600 per year (at $50 per month)
Psychotherapy: $2400 per year (assuming a $50 copay and once per week sessions)
Doctor's Appointments: $200 per year (assuming a quarterly visit with a $50 copay)
Mindless shopping: $2400 per year (at $200 per month)
Lost productivity time: $9600 per year (losing 5 hours per week due to distraction, fatigue, and burn-out at $40 per hour)

TOTAL: $20,000 per year
(This is a pretty conservative estimate!)
It doesn't have to be this way!
What can you expect from Stress Management: Practical Strategies for Lasting Relief?
Changing long-established unhealthy ways of managing stress can seem daunting, but Stress Management: Practical Strategies for Lasting Relief makes it clear, simple, and unintimidating.
You can expect to completely revolutionize the way you think about and manage stress and anxiety. This course is designed with you in mind, understanding that you're likely in the weeds of stress and anxiety right now. That's why the strategies offered here are practical - your time is valuable and you want tools you can actually use. In addition to the life-changing information you'll be acquiring, you'll also benefit from robust course materials that empower you to go the next step -- to take what you've learned and apply it in your life.
This is the first of 3 Modules that will be available in the coming months, and is focused on Stress Prevention, so in each of the four sessions of this Module, you'll be learning different ways you can manage stress on the front end, eliminating unnecessary stress and giving you bandwidth to deal with the stressors that matter to you. Each session of this Module will guide you through a different aspect of stress prevention, breaking it down into concrete steps, and helping you integrate practical tools into your everyday life.
What does more effective stress management mean to you?
Imagine how your life would be if you were able to manage stress and anxiety more effectively.
Imagine waking up feeling energized and excited, not depleted and dreading the day ahead.
Imagine being able to be present with your kids instead of having your worries in the back of your head.
Imagine being able to make a decision deliberately and confidently instead of second-guessing yourself.
Imagine feeling confident you can deliver, not scared you'll let someone down.
Imagine feeling like you're in control of your life again, feeling like your life is truly yours.

This can be your new reality, and you owe it to yourself to make it your reality.
For only $79, what are you waiting for?
What do you get for $79?
4 information-packed sessions, each focused on a different aspect of stress prevention

Sessions broken into short videos so you can go at your own pace without being overwhelmed by information

8 PDF downloads (a printable option and a fillable option for each session) to help you practice what you learn in the course

3 Breathing Exercise meditation sound files

Lifetime access to the course

Unlimited number of times you can take the course, so you can return to the information any time you need a refresher.

Simple, concrete, practical strategies you can use to start making changes in your life NOW

Priceless, life-changing guidance from a stress management expert who practices these strategies day in and day out with her clients and in her own life.
Registration closes May 24th, and the price will NEVER be this low again!
Your Instructor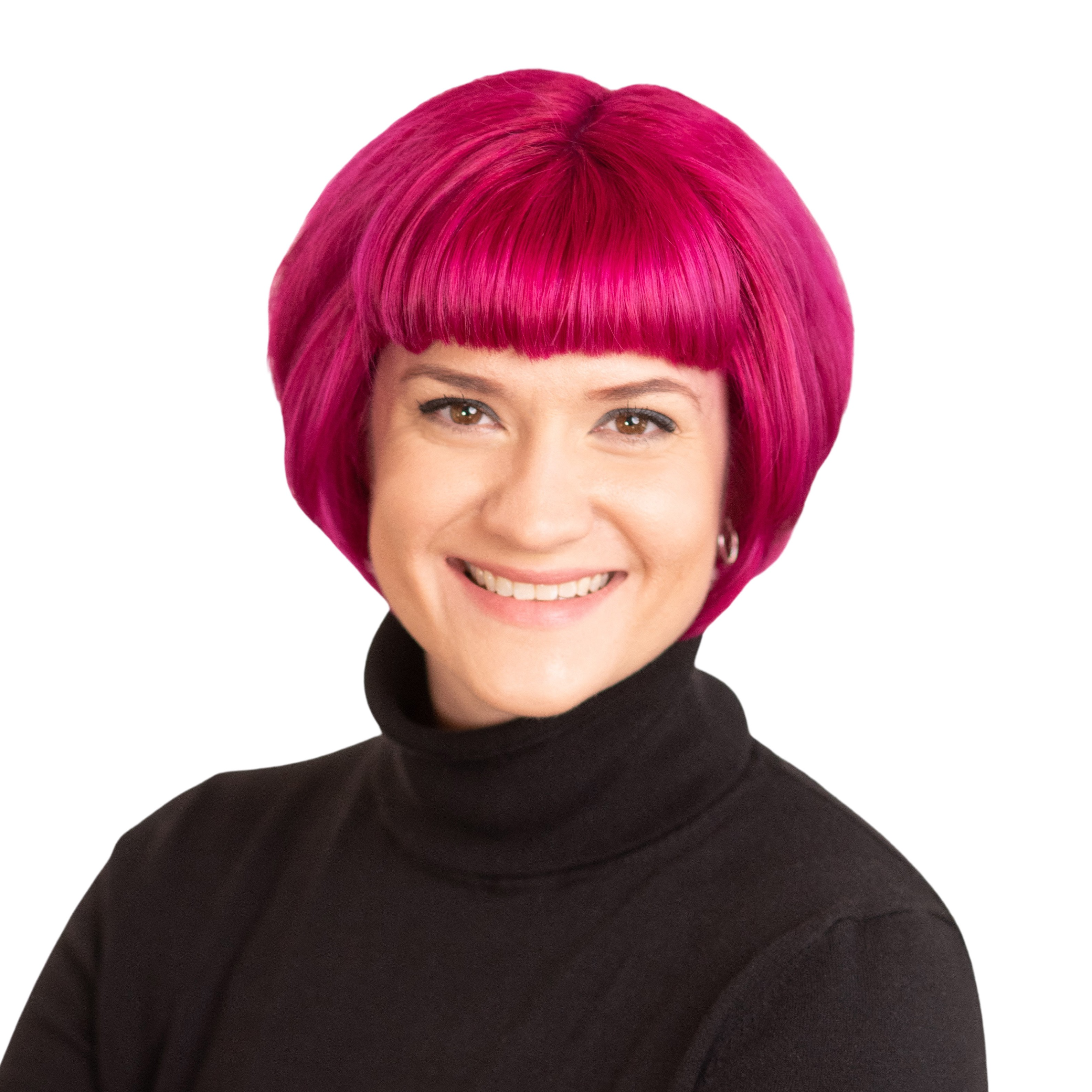 Sarah Mayland MS, CPT, FNS is a women's health coach who is on a mission to help her clients build long-term healthy habits and mindsets to live more empowered and confident lives. She is the owner of Inside Out Weight Loss Coaching and Inside Out Transformations. Inside Out Weight Loss Coaching (https://www.iowlc.com) is an integrative practice that combines personal training, nutrition coaching, and mental health coaching to help women achieve optimal health safely and sustainably. Inside Out Transformations (https://www.ioempower.com) provides online courses around the topics of mental and physical health as well as post-partum health workshops for new moms, confidence workshops for young women, and corporate wellness workshops. She is the proud mom of an amazing 5-year-old son with Autism, and is passionate about advocating for sensory-friendly inclusion in the arts in her hometown of Philadelphia, PA.
Course Curriculum
Session 1: Understanding Stress and Anxiety
Available in days
days after you enroll
Session 3: Building Stress Prevention into Your Life
Available in days
days after you enroll
Frequently Asked Questions
When does the course start and finish?
The course starts May 24 and never ends! It is a completely self-paced online course - you decide when you start and when you finish. This is a course you definitely DO NOT want to binge watch or rush through. Taking your time as you work through this course will better help you learn and apply the strategies and tools presented.
How long do I have access to the course?
How does lifetime access sound? After enrolling, you have unlimited access to this course for as long as you like - across any and all devices you own.
What if I am unhappy with the course?
We would never want you to be unhappy! If you are unsatisfied with your purchase, contact us in the first 30 days and we will give you a full refund.
Thank you for your interest in Stress Management: Practical Strategies for Lasting Relief! Don't miss out on your chance to positively change your life for the lowest price this course will ever be! You owe it to yourself to take this powerful step towards freedom from stress and anxiety!